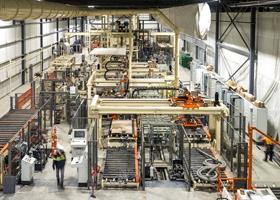 Tafisa Canada finalizes installation of leading-edge embossed in-register (EIR) technology
---
Tafisa Canada invests 15 million dollars in a new technology to provide double-sided synchronized textures in two panel sizes to meet the growing needs of residential and commercial markets.
Tafisa, North American's leader in particleboard and TFL decorative panel manufacturing, announced today that it is currently finalizing the installation of its sophisticated EIR synchronized technology for its upcoming 2016 panel collections. Unlike any other offer on the market, this new technology will enable Tafisa to offer double-sided embossed and in-register textured TFL panels in two dimensions, 4' x 8' and 5' x 9'—an industry first. Tafisa is well-advanced in the installation of the new EIR synchronized press at its Lac-Mégantic facility.
"We believe that many customers—from kitchen cabinetmakers, closet system designers, office and residential furniture producers, store fixture millworkers to commercial architects—are ready for this type of innovation in order to cater to the evolving needs of their discerning clienteles," explained Louis Brassard, Tafisa's CEO. "This investment is a proof of our company's forward-thinking mindset, ability to tap into upcoming trends, and commitment to offering the highest quality products to customers that are willing to adopt them."
Tafisa's soon-to-be-released textured design collection, crafted with its EIR technology, will further solidify the company's leadership position in offering world-class products for designers and architects who are looking for the optimal blend of high-quality design and durability. The company's first EIR synchronized collection will be launched in early Q3 of 2016. In the meantime, this new line will be geared to produce double-sided Crystalite panels in the two dimensions by April 2016.
 
About Tafisa Canada
Tafisa has a solid reputation for developing trend-setting designs and offering unmatched quality in particleboard and TFL decorative panel manufacturing. Founded in 1992, Tafisa has a proven track record for being attuned to market trends, offering a production capacity that is second to none and providing excellent customer service. The company continuously invests every year to not only improve its operational excellence but also to ensure that all of its manufacturing processes adhere to the strictest of industry, training, production and environmental standards. For more information, visit www.tafisa.ca.
-30-
For more detail, please communicate with: