Image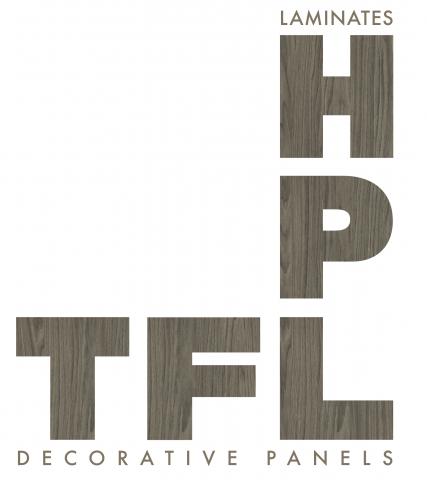 High-Pressure Laminates (HPL)
Body
Different yet the same!
Tafisa® has developped the best matched TFL-HPL program in the industry. A total game-changer!
Branded SURFORMA®, the HPL is manufactured by Tafisa's sister company, Sonae Indústria de Revestimentos (SIR). It is a complete, harmonized line of HPL to our TFL Prelude and Sommet embossed in-register (EIR) Series.
Includes one stop shopping for our TFL, HPL & PB with matching complementary products (such as edgebanding) throughout our distribution network.

About our HPL SURFORMA program:
Made from the same textured plates and decor papers
Vertical-Grade Postformable (VGP/PF) 0.80mm (0.031'')
All Sommet Series colours and several Prélude colours are available for FSC Mix Credit
Certified Class III / C for flame spread and smoke development 
Meet or exceed all the requirements of the NEMA LD3 standard 
Antimicrobial properties
GREENGUARD® Certified
Available in all 9 Tafisa textures
STANDARD DIMENSIONS

Series

Sommet

Prélude

Sizes

5' x 9'

Width

60.2'' (1530 mm)

Length

107.99'' (2743 mm)

Thickness

0.031'' (0.8mm)
Tafisa® decorative panels and matching high-pressure laminates are offered exclusively through Tafisa®'s distribution network. 
Click here to view the full list of Tafisa® decorative panels and matching Surforma HPL.
The table below gives the corresponding textures of Tafisa®'s TFL (Decorative Panel) and Surforma®'s HPL (High-Pressure Laminates). 
Series

Textures names

TFL

HPL

Code

Texture

Code 

Texture

Sommet

VIVA

M

(Y)

T

(VA)

BRAVA

M

(B)

T

(BV)

FERIA

M

(F)

T

(FE)

Prelude

karisma

L

(K)

T

(KA)

alto

L

(A)

T

(AT)

isola

L

(I)

T

(IS)

urbania

L

(R)

T

(UR)

smoothwood

L

(S)

T

(SN)

crystalite

L

(C)

T

(CR)

Coding examples

M2001(Y)

T2001 (VA)

 

L530 (A)

T530 (AT)
Certifications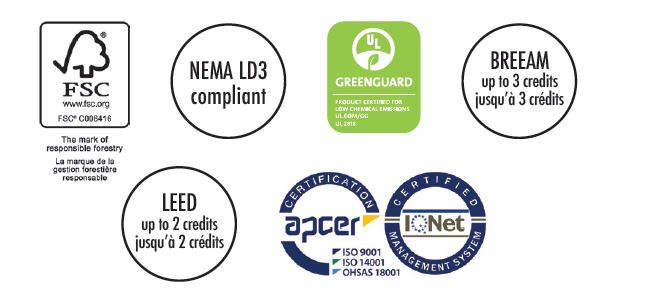 HPL panels are manufactured in two steps. The first consists of thermofusing the wear and decorative layers to multiple layers of kraft paper to form a single laminated sheet. Steel press plates are used to create the surface texture. The sheet is then bonded to a substrate (particleboard, MDF or other) by the end-user to create a finished product.