A pioneering and visionary company
Right from its inception in 1992, Tafisa® has been committed to using only 100% recovered and recycled fibres in the manufacturing of its panels. No roundwood derived from logging is used. Since 2005, over 20 million dollars have been invested to develop a unique technology, named RewoodTM, which enables Tafisa® to replace a portion of the post-industrial wood fibres in its panels with recycled post-consumer wood fibres. This innovative technology ensures a constant and renewable supply of raw material without compromising the environment for future generations.
RewoodTM an innovative process
In 2005, inspired by the European model, Tafisa® developed a visionary long-term investment plan to secure its future and that of its employees; rather than staying in the traditional forestry sector, Tafisa® Canada decided to adhere to the 3 RV-E hierarchy, investing in green technology in order to further enhance its capacity to recycle wood materials derived from the CRD and ICI (industrial, commercial and institutional) sectors. This marked the beginning of the RewoodTM era, an innovative plan that would enable the company to develop a new green source of supply.
The RewoodTM technology enables the recycling of 244,000 tons of post-consumer wood fibre annually, thus saving millions of trees. This approach extends a tree's useful life cycle; instead of ending up in a landfill site, post-consumer wood materials are recycled and integrated into the company's panels.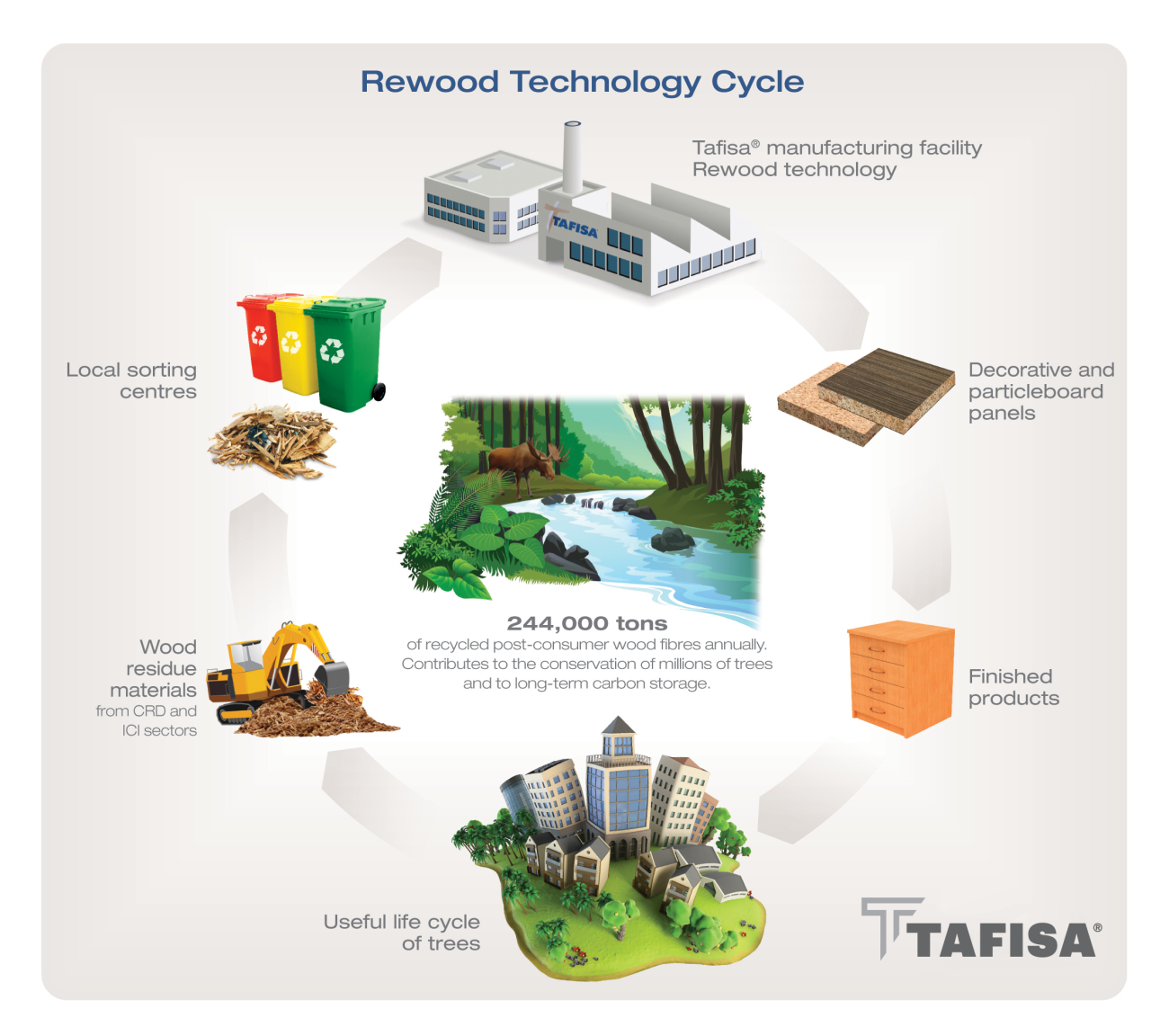 RewoodTM processing tower
The RewoodTM processing tower is a seven-storey treatment unit used to decontaminate, clean and refine post-consumer wood materials generated mainly in the CRD (construction, renovation and demolition) sectors.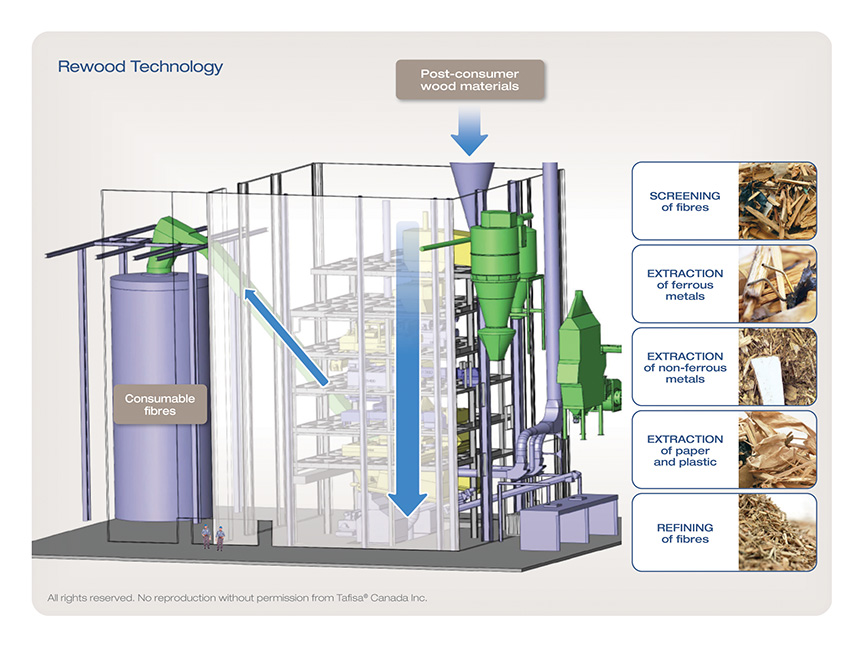 RewoodTM technology
Tafisa® Canada's initiative has enabled many of the company's suppliers — the sorting centres — to find an outlet for their recycled wood materials, and to attract major investments allowing them to consolidate and enhance their processing capacities. Since then, several new sorting centres have opened, resulting in a significant increase in the processing of residual materials.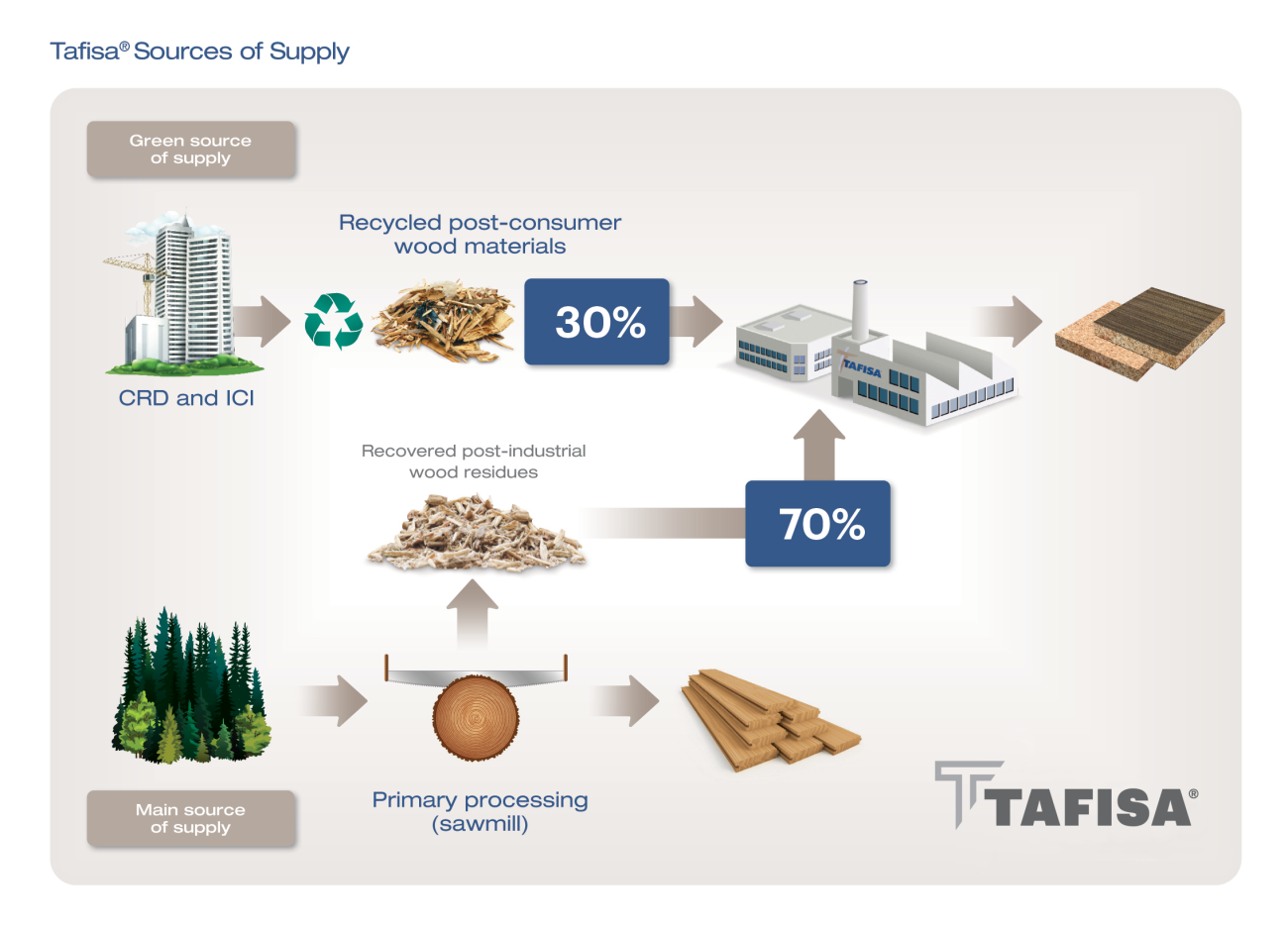 A Sustainable Vision
Tafisa®'s vision is to develop a product made entirely of recycled fibres. The increasing demand for green products, and the government's environmental policies, give good reason to adopt this approach. RewoodTM technology is only the start of a long journey to fulfill a major challenge. Tafisa® is committed to pushing boundaries on the environmental front and is proud to contribute to the collective effort towards making our planet a greener world. And that says it all!
Outstanding Results!
In 2013, as a result of its RewoodTM technology, Tafisa® was recognized by a panel of experts for its contribution to environmental excellence and sustainability and was awarded the prestigious Environmental Phenix Award.
Promoting healthy living and working spaces
Tafisa® panels conform with the most stringent third-party certifications and are recognized as maintaining good indoor air quality to protect human health.