Eco-Certified Composite grademark program (ECC)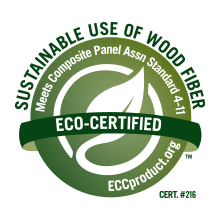 Tafisa® panels have been granted Eco-Certified Composite Grademark Program (ECC) Certification by the Composite Panel Association (CPA), demonstrating an exemplary commitment to the sustainable use of wood fiber and to environmental stewardship. Tafisa®'s particleboard meet or exceed the following five requirements:
Carbon Footprint – The plant shall demonstrate that the panel's carbon store offsets its cradle-to-gate carbon footprint as determined in kg-CO2 equivalents of greenhouse gas (GHG) emissions.                                                                                   
---
Local and Renewable Resource – At least 85% of total annual wood fibre used shall be sourced within 402 km of the manufacturing plant.
---
Recycled/Recovered – Use a minimum of 75% recycled or recovered fiber; OR at least 50% recycled or recovered fiber AND a minimum of 5% post-consumer fiber. Percentages shall be calculated on a weight basis as measured in bone dry tons (bdt).
---
Sustainability – The plant shall document that greater than 97% fiber furnish brought on-site to manufacture panels is either converted into panels or other non-waste products.
---
Wood Sourcing – The plant shall hold a valid assessment and certificate from a certifying agency recognized by CPA such as the Forest Stewardship Council (FSC—Controlled Wood Standard or Chain of Custody Standard) or the Sustainable Forestry Initiative (SFI—Fiber Sourcing Standard).
EPA TSCA Title VI / CARB ULEF (Ultra-Low Formaldehyde)
TAFIPAN®' particleboard has received third-party certification stating compliance with the limit (0.09 ppm) for EPA TSCA Title VI formaldehyde emissions.
CARB ULEF (Ultra-Low Emitting Formaldehyde)
TAFIPAN-EVOLOTM particleboard meet the requirements for CARB ULEF (Ultra-Low Emitting Formaldehyde) designation.

Forest Stewardship Council® certification (FSC®)
 
Tafisa® Canada is certified for Forest Stewardship Council chain of custody. This assessment has been third-party verified by Preferred by Nature, which has concluded that the wood fibre sourcing practices of Tafisa® Canada adhere to the FSC guidelines of forest stewardship. Tafisa® Canada's FSC certified products have been verified to NOT come from:
Illegally harvested wood

Forests in violation of traditional and civil rights

Forest in which high conservation values are threatened

Forests that are being converted to plantations or non-forest use

Forests in which genetically modified trees are planted
ISO Certifications
---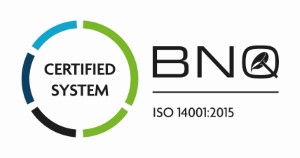 Tafisa® Canada's environmental management system has been assessed and registered as meeting the requirements of ISO 14001: 2015. The scope of registration covers the environmental activities at the site pertaining to the manufacture of raw and overlaid particleboard.
Tafisa® is the first company member of the Composite Panel Association (CPA) and producer of particleboard and decorative panels whose environmental management system meets the requirements of ISO 14001: 2015.
---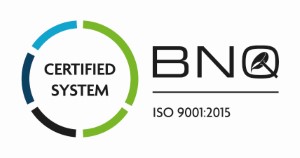 Tafisa® Canada is assessed and complies with the requirements of ISO 9001:2015 for the implementation of its quality control system and the system's application throughout the organization. 
---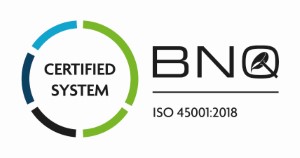 The security of our employees is a priority for Tafisa®. Thus, we always want to ensure that we comply with all the requirements of ISO 45001:2018 for the Occupational Health and Safety Management. 
Below is the full list of our certifications: