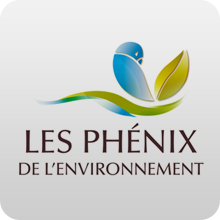 Tafisa® has been awarded the prestigious Phenix Award for excellence in environmental protection and sustainability – Business Category, Environmental Achievement, Technology, Process or Practice – awarded by the Quebec Ministry of Sustainable Development, Environment, Wildlife and Parks, the Quebec Ministry of Finance and Economy, Eco Entreprises Quebec and the Quebec Environment Foundation.
Tafisa® was chosen, by a panel of experts, from a list of 35 companies for the success of its landmark wood recycling technology, called RewoodTM. Following a $5.4 million upgrade, Tafisa® was able to increase the post-consumer recycled wood fibre content in its panel production, enabling the company to recycle 244,000 tons of diverted wood fibre each year – the equivalent of about two million trees.
Phenix People's Choice Award
Tafisa® was also the winner of the Phenix People's Choice award. After the public voted online for their favourite project,  RewoodTM by Tafisa®  received the most votes and was therefore given the award.   
Click here to read the press release.